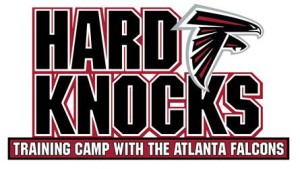 With Atlanta Falcons Hard Knocks announced, HBO and NFL Films are ready for Chick-fil-A and late nights at Waffle House. Here's four things you should be looking forward to this Fall.

"You just mandated that the sheet rock salesmen at Home Depot ride around the store on unicycles while juggling –all in the hopes it would stimulate sales of Home Depot painter hats. – Jeff Schultz of AJC on Atlanta Falcons coaching staff handling Hard Knocks.
I can't say I'm surprised by the old-man-over-complicated-analogy over reaction of local media because they are losing some of that stuff they need for clicks. C'mon, did we need to go with juggling clowns to express the fact that there will be more cameras than usual? I can't see a program that is long tenured under Mike Smith would be any different from years past. Maybe a drill here or there or even an interesting position battle but what will really affected? Local man pride? I will agree with Schultz with the fact that it is an act of Arthur Blank more than anyone else. As someone who has a background in marketing, my expertise was not need to see this an attempt sell the Falcons and get them back on the limelight. Hard Knocks usually romanticizes a franchise and its star players for the NFL fans. If you hit up there website you'll see that New Atlanta Stadium is something of a priority. So if you can do simple math you can see that it adds up to an agenda that includes PSL, season tickets, and some feel good stories in the city.
(All images courtesy of Atlanta Falcons website, AJC and Google Search)
Scott Pioli Influence
So when the news got out that Scott Pioli was joining forces with his former New England Patriots cohort Thomas Dimitroff as Assistant General Manager, the initial question was what would become of the defense? There was no doubt that the defense had holes in it on all levels. You had some rumors floating that Falcons would change to a 3-4 but Head Coach Mike Smith crushed that. Pioli has been known for building defenses if you site his days with the Chiefs and Patriots. You can say he took a part or had some influence on some great defensive picks and free agent signings over the years.
Tony's Gonzales' Replacement
Number 88 is no longer running and diving for those 3rd and longs. Who will take that role and be the blankey for Matt Ryan? Levine Toilolo is the 6'8 265 lb 2nd year Tight End that is currently first on the depth chart. Bear Pascole was signed to be a blocker and former Wisconsin Badger Jacob Pederson was signed as an undrafted free agent seemingly for depth and to give Toilolo some competition at the spot. There is a a lot of production being loss when you speak on Tony G but more importantly was the fact he was consistent and available.
Matt Ryan's Confidence
Matt Ryan had a rough year last. Couldn't stay up right, weapons constantly hurt, and he signed for $100 million right before the season. Statistically it wasn't a bad year.  But is Matty Ice that guy? Above the shoulders he is excellent. Not that many mistakes for the most part leads to the Falcons winning a vast majority of those Arthur Blank stated wins. All that said and I don't believe in him as the Alpha Dog in the huddle. I can't tell who is. So I will be watching for that this year.
Mike Smith Hot Seat Vibe/Face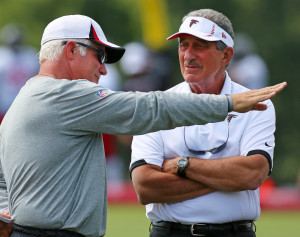 The Falcons went 4-12 after a NFC championship appearance the previous year. We can agree the three things that kept the Dirty Birds from succeeding were O-Line, injuries, and Defensive talent and depth. This year seven under Mike Smith. If Mr. Blank is a fan of stability then we shouldn't see too much of this. On the other hand if the city starts to feel that glass ceiling vibe, there will be some changes made somewhere. There are some bright spots with the coaching. Smith in Atlanta unlike Smith in Tampa didn't wait until that seat got hot to change his coordinators. Lovie was really loyal to his guys on the staff and it hurt him in the long run with the Bears.

Follow #DaRundown Sports